KASAI Announces First Pro Event
 'KASAI Pro' rocks New York City's Greenpoint Terminal on December 9.
September 20, 2017 – New York City, NY – KASAI Elite Grappling Championships (KASAI) lights up the Big Apple on Saturday, December 9, with its debut professional event, 'KASAI Pro'. Taking place at Greenpoint Terminal Warehouse in Brooklyn, New York, 'KASAI Pro' will present Jiu-Jitsu's most decorated names, compelling matchups and a feature eight-man no-gi tournament at 155lbs (70.3kg) to crown KASAI's inaugural World Lightweight Champion.
As part of an exciting tournament format, top Jiu-Jitsu performers from New York and around the world will compete in multiple six-minute bouts across two round-robin brackets. All competitive bouts will use the IBJJF points system, but no advantages will be awarded and all submissions will be legal. Victories by submission will be rewarded, and the winners of each bracket will advance to meet in a finale championship bout.
"We can't wait to unleash Jiu-Jitsu's most ferocious warriors at 'KASAI Pro'," said Rolles Gracie, KASAI President. "Our mission is to create a professional platform under the bright lights of New York City that elevates Jiu-Jitsu to an all-new level."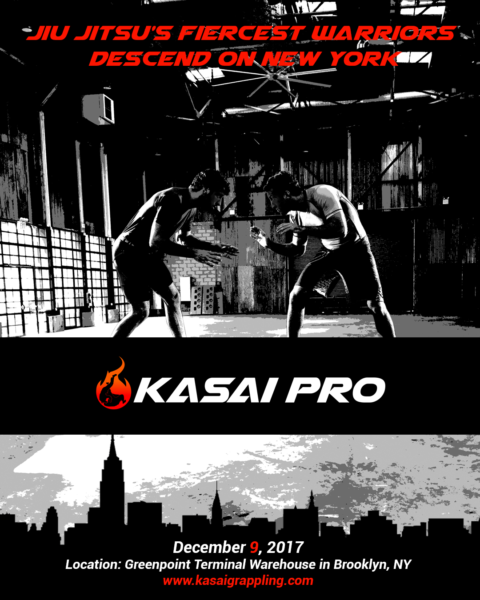 Among the eight contenders competing for gold will be the winner of KASAI's amateur qualifying bracket, which takes place Saturday, October 21, at The Elite Grappling Championships. In addition to the tournament, 'KASAI Pro' will include a handful of high-caliber feature matches with iconic names from the worlds of Jiu-Jitsu and mixed martial arts. A quality undercard will showcase up-and-coming prospects from New York and the Tri-state area.
"We're delighted to unveil our inaugural tournament," said Richard Byrne, KASAI CEO. "It promises to be fast-paced, exciting, and feature some of the top talent in the sport. Look out New York City!"
Details about event combatants, ticket information, and broadcast viewing will be available in due course. For the latest information on 'KASAI Pro', please visit www.kasaigrappling.com.
# # #
About KASAI
KASAI Elite Grappling Championships ("KASAI") is New York City's premier competitive professional and amateur Jiu-Jitsu (BJJ) promotion, committed to hosting amateur and professional live events featuring the most talented male and female grapplers from around the globe. Founded in 2016, KASAI's organization includes well-renowned names from the worlds of martial arts, media production and business finance who are committed to developing the sport's public profile and amplifying the brand of BJJ's greatest competitors. For more information, visit www.kasaigrappling.com, or KASAI's Facebook, Twitter and Instagram social media channels.
Contact Information
Ken Gelman, COO, KASAI Elite Grappling Championships
Aidan O'Connor, PR Manager, KASAI Elite Grappling Championships
contact@kasaigrapplng.com