KASAI Partners with Premier New York Designer AZAD WATCH
AZAD WATCH to be KASAI's official timekeeper; will award ten premium watch prizes to victorious grapplers at 'The Elite Grappling Championships'
New York City, NY – KASAI Elite Grappling Championships (KASAI) has reached a partnership agreement with New York-based watch designer AZAD WATCH (AZAD), combining first-class Jiu-Jitsu with five-star wristwear.
As part of a collaboration campaign titled "Time Reveals The Victorious," AZAD, which provides a variety of luxury, sports and classic product lines, will award ten wristwatches valued at $995 each, to randomly selected tournament bracket winners from KASAI's October 21 amateur event, 'The Elite Grappling Championships', at Baruch College in Manhattan, New York. Each piece will come with a two-year warranty.
"We're delighted to announce KASAI's partnership with AZAD. Their team's commitment to the "12 timeless values" is an organic parallel to the 12 life learnings professed by my grandfather and BJJ legend Carlos Gracie Sr.," said Rolles Gracie, KASAI President. "Not only that, we now boast unique, compelling and stylish prizes for those who come out and compete on October 21."
AZAD boasts an impressive roster of brand ambassadors, including luminaries from the worlds of martial arts such as New York-based UFC middleweight and BJJ black belt David Branch and former Bellator MMA light heavyweight champion Liam McGeary.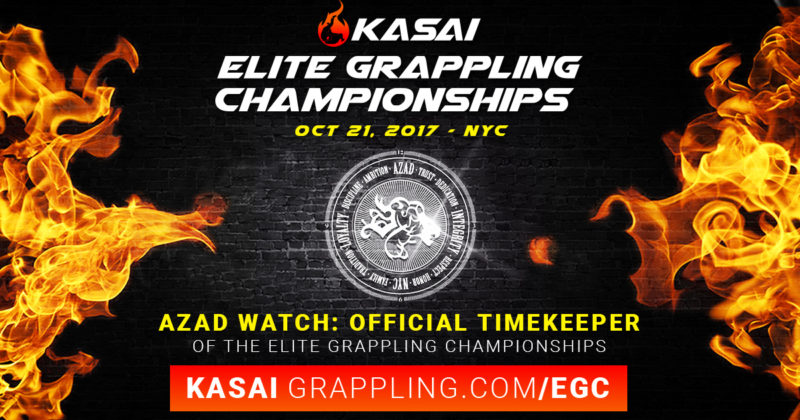 "The teams at AZAD and KASAI share a common ambition to empower individuals, energize communities and reward those who commit time to chasing victory," said Babak Ermankhah, president of AZAD. "We're pleased to align ourselves with another group that commends hustle and look forward to gifting 'The Elite Grappling Championships'' greatest grapplers with equally elite wristwear."
Taking place Saturday, October 21, at Baruch College in midtown Manhattan, 'The Elite Grappling Championships' will feature amateur gi Jiu-Jitsu tournament tracks contested under IBJJF rules. Brackets are open to male and female competitors across different weight classes and skill levels; white belt through black belt. A single no gi 155lb tournament that guarantees the winner a place in KASAI's upcoming professional event will also feature.
Interested parties can register or learn more via www.KASAIGrappling.com/EGC.
#   #   #
About KASAI
KASAI Elite Grappling Championships ("KASAI") is New York City's premier competitive professional and amateur Jiu-Jitsu (BJJ) promotion, committed to hosting live events featuring the most talented male and female grapplers from around the globe. Founded in 2016, KASAI's organization includes renowned names from the worlds of martial arts, media production and business finance who are committed to developing the sport's public profile and amplifying the brand of BJJ's greatest competitors. For more information, visit www.kasaigrappling.com, or KASAI's Facebook, Twitter and Instagram social media channels.
—
About AZAD WATCH
AZAD WATCH, headquartered in NYC's Diamond District, is one of the premier designers and distributors of luxury timepieces. Since 2007, AZAD WATCH has and continues to emerge as one of the most successful, respected and in-demand luxury brands worldwide. Its clientele includes some of the most renowned celebrities, athletes, and business executives, and continues to experience market growth as it defines and shapes what it means to provide consumers with beautifully designed luxury products at affordable prices.
In 2017, AZAD WATCH unveiled a complete lifestyle platform, AZAD, so that it can also serve as a global social enterprise and ecosystem. AZAD provides an entrepreneurship, music/arts and athletic ecosystem for economically deprived middle and high school students. AZAD's consumers base consists of a broad range of super fans across key geographies in Europe, Asia, North America, Latin America and the Middle East. For additional information, please visit www.azadwatchnyc.com and www.azadstore.com.
—
Contact Information
Ken Gelman, COO, KASAI Elite Grappling Championships
Aidan O'Connor, PR Manager, KASAI Elite Grappling Championships
contact@9c2.22a.mwp.accessdomain.com
—