KASAI Announces Partnership with Hayabusa
KASAI event competitors and spectators will receive exclusive discount and complimentary t-shirt
October 6, 2017 – New York City, NY – KASAI Elite Grappling Championships (KASAI) today announced a formal partnership with leading combat equipment and apparel company Hayabusa.
Hayabusa will be a part of KASAI's upcoming events, The Elite Grappling Championships – a day of amateur Jiu-Jitsu tournaments on October 21 at Manhattan's Baruch College – and KASAI Pro – a professional grappling event on December 9 at Greenpoint Terminal Warehouse in Brooklyn, New York.
As part of the agreement, fans and followers of KASAI will receive a 15 percent discount on apparel when they visit hayabusafight.com/kasai2017 and use an exclusive promo code for orders of $50 and more. As a goodwill gesture for their support, users will also receive a free Hayabusa Reflexion Bamboo T-shirt valued at $19.99. The offer will be open October 1 through December 15.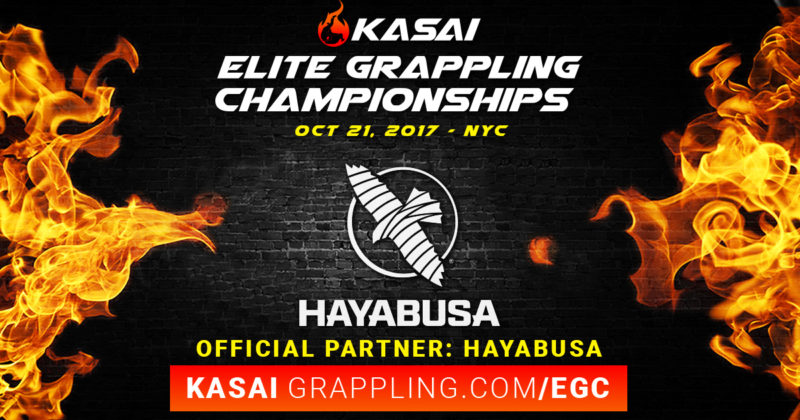 "Hayabusa is a name tied to quality and elite performance throughout the martial arts community," said Rolles Gracie, KASAI President. "To receive their backing is an honor and a testament to the value of our mission, bringing compelling Jiu-Jitsu to New York."
Providing high-quality martial arts performance gear including gloves, gis, compression and fight shorts, Hayabusa endorses the likes of Vinny Magalhes, Georges St-Pierre, and Simon Marcus across Brazilian Jiu-Jitsu, MMA and Kickboxing.
We're delighted to support KASAI in its upcoming events," said Craig Clement, Hayabusa Co-President. "From our conversations, it's clear that both brands share an affinity for promoting grappling at all levels." We look forward to preparing combatants at The Elite Grappling Championships and KASAI Pro accordingly.
For the latest information on KASAI events, please visit www.kasaigrappling.com.
#   #   #
 About KASAI
KASAI Elite Grappling Championships ("KASAI") is New York City's premier competitive professional and amateur Jiu-Jitsu (BJJ) promotion, committed to hosting amateur and professional live events featuring the most talented male and female grapplers from around the globe. Founded in 2016, KASAI's organization includes well-renowned names from the worlds of martial arts, media production and business finance who are committed to developing the sport's public profile and amplifying the brand of BJJ's greatest competitors. For more information, visit www.kasaigrappling.com, or KASAI's Facebook, Twitter and Instagram social media channels.
—
About Hayabusa
When you choose a combat sport you choose a lifestyle. A lifestyle of constant re-invention, pushing your limits, finding the internal drive to conquer all challenges. Hayabusa lives and breathes this, pushing boundaries and reinventing itself everyday. Hayabusa has placed a primary focus on investing and partnering with industry leading experts in design, engineering, materials development, and scientific research. It continues to align itself with the highest skilled professionals, both internally and externally to develop products and innovations vital to advancing the combat sports industry.
—
Contact Information
Ken Gelman, COO, KASAI Elite Grappling Championships
Aidan O'Connor, PR Manager, KASAI Elite Grappling Championships
contact@9c2.22a.mwp.accessdomain.com
—